DUVETICA
The premium padding shaped by timeless Italian Spirit.
The Duvetica identity is a timeless style. It is the story of an unorthodox normality; an idiosyncratic take on "the generic", crafted over years to appear effortlessly unpretentious, yet upon closer inspection it is ingeniously personal and unique with a constant eye on digitalization. It is style beyond fashion. AIM OF THE PROJECT
In this particular moment while the fashion industry is changing considerably, the brand Duvetica needs a new identity and a new direction of communication. We will propose a renewed communication strategy that will start from the analysis of the brand competitive scenario, with an highlight on the key elements of the brands: • ITALIANICITY • STORYTELLING • DIGITALIZATION 
OUR APPROACH
The keywords we have identified are FUN and MADE IN ITALY. We have interpreted them working towards COLOR and DYNAMISM from the style point of view. Duvetica needs to play on a different communication, less static and more dynamic compared to the past, taking advantage the social media channels.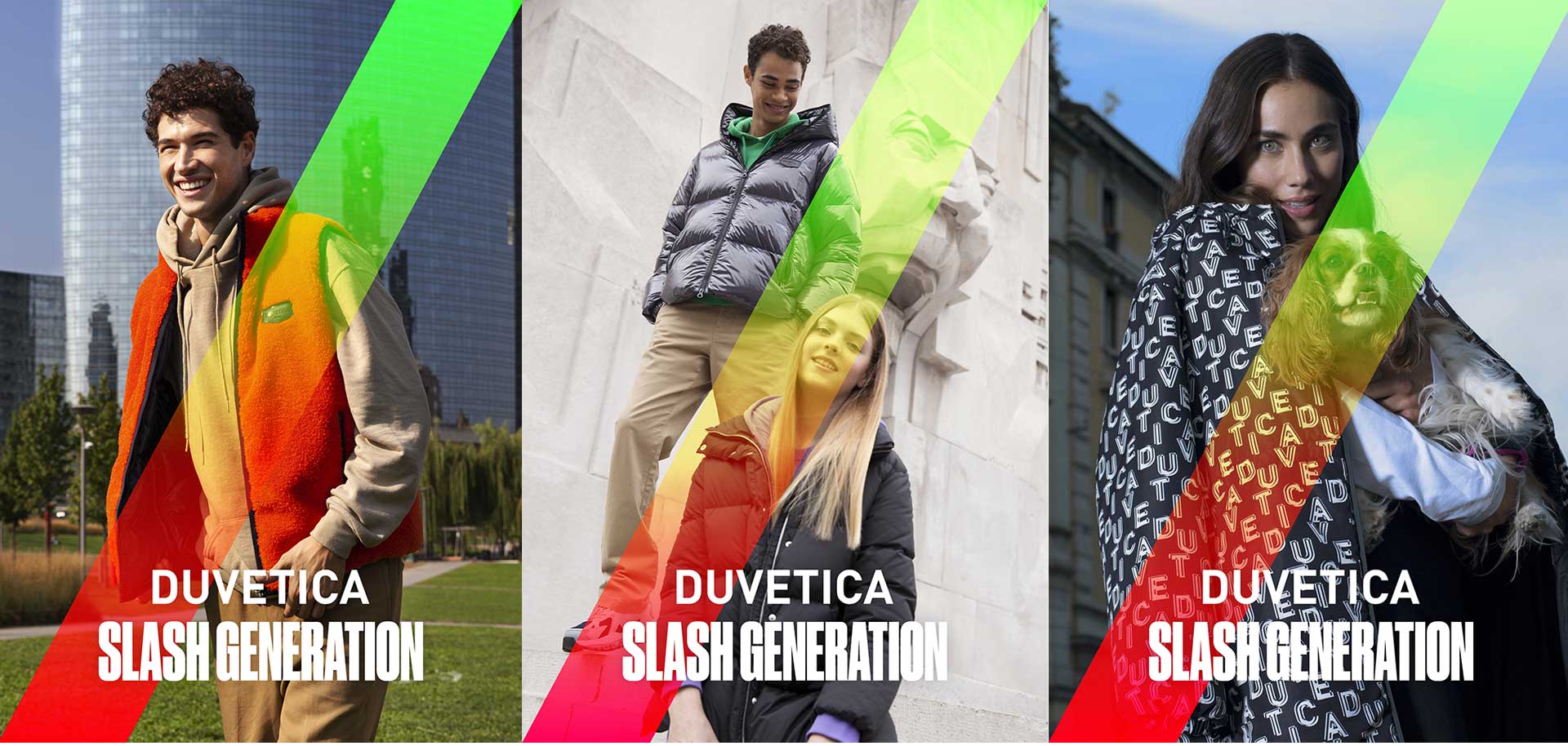 CONCEPT
A graphic symbol, an icon of the Millennials that no longer allow themselves to be harnessed in a single definition. They are always slash something: designer/free climber/blogger/… The graphic symbol is also an object in progress that offers the cue to create different types of animations, alluding to Made in Italy in the colour choices. 
INFLUENCER STRATEGY
We will select 2 Testimonials for the campaign with a specific identity on the web and well known from their followerbase, both on a national and international level. The first principal guest stars is Benedetta Gargari, excellent 25 years old, young actress, she became popular thanks to her participation to "SKAM ITALIA" where she interpreted the role of Eleonora, a young girl from a rich family. When she was a child, she took part also to Ozpetek films such as Saturno Contro and La Finestra di Fronte. 
The second guest star is Giancarlo Commare, 30 years old, he is an Italian actor born in Sicily – where he started studying at Selinus Theater, then continued in Rome. In 2008 he got his first role in the theatre, as principal dancer, in the Pinocchio show. In 2016 Giancarlo arrives on television, appearing in some advertisements and starring in a couple of Rai Uno fiction. In 2018 his popularity grow up because he took part to "SKAM ITALIA"  in the role of Edoardo Incanti.
In addition to the two talents, we have selected a group of well-known micro-influencers who have further contributed to the dissemination of the campaign.
Massimo was the brilliant Creative mind behind an important special project for the repositioning of a Brand I worked for. Passionate, people-driven, innovator and results-oriented he managed the entire process with extreme expertise. I highly recommend to follow him out of the box!